TikTok Engagement Rising Quickly in the US and UK – Report
Americans now spend more time on TikTok than they do on YouTube each week, according to a new report.
App analytics firm App Annie regularly rates the most popular apps in its State of Mobile report. The report tracks trends in consumer behavior and highlights emerging mobile apps. This report found that Americans who use Android phones spend more time on TikTok.
These Americans spent an average of 24.5 hours per month on TikTok. That's compared to about 22 hours per month that are spent on YouTube. The difference might be small, but a look at past State of Mobile reports shows how fast TikTok's monthly engagement is growing.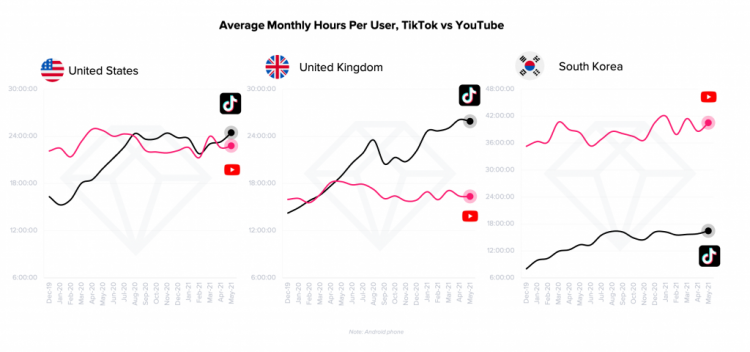 In December 2019, Americans were only spending 16 hours a month on TikTok. During the same period, they spent around 21.5 hours per month on YouTube. In other words, TikTok's engagement rate continues to grow while YouTube's remains unchanged. It also explains why YouTube shorts are a thing now – and why short videos dominate all platforms.
TikTok is also ahead of YouTube in the number of hours viewed per month in the UK. Android users in the UK spend 26 hours per month on TikTok compared to 16 hours per month on YouTube. While TikTok is growing rapidly in America and the UK, this is not the case in all countries.
In South Korea, YouTube is far more popular than TikTok. South Koreans spend an average of 40 hours a month on YouTube, compared to just 17 hours a month on TikTok. App Annie says the average monthly time TikTok spent per user "grew faster than almost any other app we analyzed, including 70% in the US and 80% in the UK".
TikTok engagement is growing faster than Facebook, according to this app analytics report.
That also explains why Facebook is aiming to make short videos a part of all of its platforms. In 2019, Facebook users spent an average of 15.5 hours per month on the app – TikTok users only spent 12.8 hours per month. But by 2020, TikTok's engagement numbers had doubled, while Facebook's only grew by two hours at a time.
TikTok engagement is growing faster than Facebook, Instagram, or any of Facebook's messaging apps. It underscores how addicting the TikTok algorithm can be by delivering video after video in a never-ending feed. TikTok has continued its meteoric rise despite pressure from the Indian and US governments.
It will be interesting to see if any of his rivals can repeat their success in engagement. Instagram has been completely redesigned to do justice to the new Reels platform.