Liberals to reboot controversial C-10, together with invoice forcing digital giants to pay for information
Breadcrumb Trail Links
Messages
Canadian politics
Canada
The federal government will also reintroduce its controversial update to the Broadcasting Act, known as Bill C-10, "very soon." You haven't said if any changes will be made
Publication date:
January 31, 2022 • 1 hour ago • 2 minutes read • 44 comments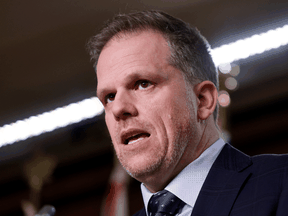 Mark Holland, leader of the government in the House of Commons, speaks during a news conference on Parliament Hill on January 31, 2022. Photo by Blair Gable/Reuters
content of the article
The Liberal government is preparing to relaunch its controversial broadcasting law, the "online streaming law," which it tried unsuccessfully to pass as a C-10 bill in last parliament, though it plans to introduce legislation within days to amend it forcing major social media platforms like Facebook and Google to share revenue with news publishers.
display
This ad has not yet loaded, but your article continues below.
content of the article
Liberal House Speaker Mark Holland told reporters Monday that a bill for the Streaming Act that would subject internet companies to government regulation similar to broadcasters will be tabled "very soon." When asked about the news compensation legislation, Holland said that "you should expect to see this bill in the coming days."
The letter of engagement for Heritage Minister Pablo Rodriguez, released in December, directs him to "introduce legislation requiring digital platforms that generate revenue from the publication of news content to share a portion of their revenue with Canadian news outlets."
The letter said the legislation should follow Australia's approach, which mandates negotiation rules for publishers and online platforms. The biggest targets of the bill are Meta, Facebook's parent company, and Google. Both companies strongly opposed the Australian law when it was introduced.
display
This ad has not yet loaded, but your article continues below.
content of the article
The Broadcasting Act update, which establishes the CRTC to start regulating online companies like Netflix, met with fierce opposition in the last parliament when the government lifted an exemption for user-generated content. Critics accused it of violating freedom of expression rights, and while Liberals then restricted the CRTC's power over content on social media, it was not enough to allay concerns about freedom of expression.
While the government managed to get the bill through the House of Commons at the last minute with support from the bloc and the NDP, C-10s hit a wall in the Senate when senators refused to rush it.



Digital giants must pay Canadian media to use news: Heritage Minister




No interest in rushing Bill C-10 for liberals, senators say
display
This ad has not yet loaded, but your article continues below.
content of the article
Conservatives have already signaled their opposition to reintroduction. In a January 19 letter to Rodriguez, legacy conservative critic John Nater urged the government not to bring back the legislation. "Bill C-10 is so deeply flawed and controversial that it would not be in Canadian interests to reintroduce it," Nater wrote.
Holland declined to say whether the reintroduced bill will include changes to address concerns about freedom of expression. "The minister will discuss this when it is presented in relation to any changes that might be included in the bill," he said.
The News Compensation Act and legislation previously known as the C-10 were two parts of a trio of online regulation bills that Liberals planned to introduce within 100 days of last fall's federal election.
display
This ad has not yet loaded, but your article continues below.
content of the article
The third part of this is the Online Harm Act, which targets terrorist content, content that incites violence, hate speech, non-consensual sharing of intimate images, and sexual exploitation of children. But the bill was criticized in a consultation by experts, Google and even research librarians, who wrote to the government warning the plan would lead to the blocking of legitimate content and censorship.
The letter of mandate for Rodriguez then urged him to continue working on the development of that legislation, noting that it was "intended to reflect feedback received during recent consultations."
When asked if this legislation would also be introduced shortly, Holland said on Monday: "There will be more information on online claims very soon."
Share this article on your social network
display
This ad has not yet loaded, but your article continues below.
NP posted
By clicking the subscribe button, you agree to receive the above newsletter from Postmedia Network Inc. You can unsubscribe at any time by clicking the unsubscribe link at the bottom of our emails. Postmedia Network Inc | 365 Bloor Street East, Toronto, Ontario, M4W 3L4 | 416-383-2300
Thanks for registering!
Remarks
Postmedia strives to maintain a vibrant but civilized forum for discussion and encourages all readers to share their views on our articles. Comments may take up to an hour to be moderated before they appear on the site. We ask that you keep your comments relevant and respectful. We've turned on email notifications – you'll now receive an email when you get a reply to your comment, there's an update on a comment thread you follow, or when a user you follow comments follows. For more information and details on how to customize your email settings, see our Community Guidelines.