"The most important assault on the elections will come from the TikTok platform"
After three Israeli rounds of voting in two years, it seems we have seen it all: fake news, voting bots, conspiracy theories, apps designed to influence voters, data leaks, clear use of user information, targeted campaigns, and so on.
The upcoming election campaign, however, will be very different from its three predecessors. It will be the first election campaign to take place in the middle of the pandemic. This will change the dynamics of the entire process and shift much of what happens on the streets to the online platforms.
Prime Minister Benjamin Netanyahu's party, the Likud, relied on the election app to influence voters. Photo: Alex Gamburg
The momentum is expected to be charged with additional energies thanks to the digital foundations gleaned from previous rounds and some lessons from the recent US presidential election. These factors promise that the upcoming elections in Israel will be more toxic, dirtier, inflammatory and deceitful. This time around, we'll have a lot more from TikTok too.
Yair Netanyahu, the son of Israeli Prime Minister Benjamin Netanyahu, provided an example of the traits that will shape the next elections when he retweeted someone last week who claimed fraud had been found in previous elections. According to the tweet, which is completely unfounded, the Netanyahu-led right-wing bloc fell from 62 to 58 seats after Supreme Court Judge Chairman Neal Hendel locked himself in a room with Central Electoral Committee director Orly Adas, "voting fraud is already there, "claimed the tweet.
TikTok plays an important role
TikTok is the new player who will play a major role in the upcoming election. Last year, the social media platform became very popular and played a clear role in the US election campaign.
"All of our work on digital and social media platforms is influenced by the US guidelines regulating political advertising," said Abdu Jabarin, who owns Lines Communication advertising agency, which has been running the Joint List Arab parties' digital campaign since 2015, Calcalist . "Everything that happened there in 2016 also affected us in later elections. Today we know that the changes will relate to things like approving advertisements or defining fake news. "
TikTok is the only platform that doesn't have a clear policy regarding elections, he says. "It is no coincidence that the Prime Minister opened a TikTok account two weeks ago when he received the first coronavirus vaccine (Covid-19). It is the only platform that has not yet established a clear policy on the use of political advertising on its platform, "he said. "What's more, it's a network that has grown a lot recently, especially in the Arab sector, where the average user spends 50 minutes a day using the app. Political advertising doesn't have to be approved on TikTok, and we haven't seen things like Facebook or Twitter being scrapped in the US elections. "
Abdu Jabarin says the Arab community is easily influenced by TikTok.
According to Jabarin, the ability of political bodies to create viral material on TikTok is significantly higher compared to other social media platforms. "Political pages on Facebook aren't exposed to many users, but TikTok's algorithms give the posts a higher chance of going viral. Facebook can block a site's political message. However, if users record a video that the Yesh Atid party uploaded to TikTok, for example, and posted on their own private accounts numbered by the thousands, who can control that? You can't block 2,000 people who shared a video. And even if you block it, it'll be done within two hours. TikTok will allow the kind of aggression that Facebook and Twitter won't. The war and the attacks will come from there. "
Increased use of apps
One of the main problems with previous elections has been the use of apps designed to influence voters, such as the voting app used by Likud party voters. Netanyahu encouraged the use of the app during its rallies, and the Likud party put in place a complex mechanism to use the large amount of user data entered into the app to encourage tens of thousands of voters to participate in the elections. The party also persisted in using the Elector app even after it became known that user data had been leaked.
Nimrod Eliran Sabbah, communications advisor to Minister of Cyber ​​and National Digital Affairs, David Amsalem, and owner of PR agency Tal Shachar Communications and Strategy, ran Likud's election app headquarters in the previous election. He was the one who directed the use of the app and built the campaign mechanism on it. "It's the best and safest way to reach people," said Sabbah. "Every political party understands that it cannot go through these elections peacefully if it is not on this platform. During the coronavirus era, the connection between a political party and its voters is mainly through digital platforms. The Likud has made great strides in this direction, and has opened a void with its rivals, and it will continue to do so. At Likud, people know that this gave voters the big boost to the elections and added value in these past elections. "
Nimrod Eliran Sabbah believes apps like Electra will be the main players in the next election campaign. Photo: Tal Shachar Agency
Photo: Nimrod Glickman
Professor Karine Nahon, President of the Israel Internet Association and Associate Professor of Information Science at the Interdisciplinary Center in Herzliya, who studies the diffusion of information through social media channels, predicts that political parties that have invested in apps like Elector will benefit the next elections.
"These parties came to an excellent starting point in the election campaign. Their databases, which they worked on for weeks, are still relevant, "she explained. "They have a lot of data and their ability to analyze big data is now even greater. You can accurately predict voter preferences. Their algorithms are sophisticated and their data is of higher quality. You can see changes over the last three elections and which electoral parties need more pressure or investment. "
Sabbah estimates that the use of Elector and similar apps will extend to newer areas, and during the coronavirus era, these apps will take over the role that party headquarters once played. "There will be new technologies. Artificial intelligence, car pooling, all these digital tools will get more expression. It will be a purely digital campaign. It's hard to even think about local campaign branches. Because of this, all of these apps play an important role in influencing voters and enlivening all known phases of the electoral cycle – the rallies, WhatsApp messages, and the activities of the local party branches. Once a person called their local branch and asked for a sign to hang on their property, there is now a feature in the app that allows them to do so. "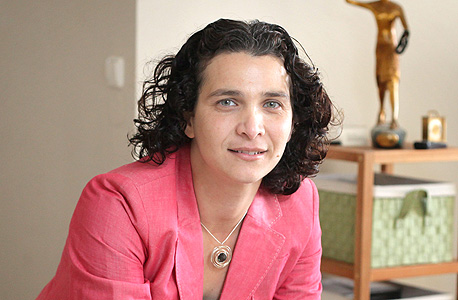 Prof. Karin Nahon estimates that party access to big data and voter apps will help influence voters. Photo: Amit Shaal
W.
Will Likud use Elector or another app again? Sabbah believes a decision has not yet been made, but estimates that Kurfürst is a leading player in the field. "You have added several roles since the last election. You have examined the whole system in more depth. At the end of the day the elector gave them results. "
Will apps designed to encourage voters replace local party branches? If so, what will replace the crowd-filled rallies? Of course the social media networks. But not necessarily the public ones like Facebook and Twitter, but the private apps like WhatsApp and Telegram.
A dangerous combination that could lead to chaos
"The digital sphere becomes the city square, but it is instantly split into different messaging apps, Facebook groups or Zoom calls," said Nahon. "There will be local discussions through networks and groups. That means it will be a lot easier to spread rumors and conspiracy theories. This makes it much easier to manipulate people as most of the work is not done on visible social networks like Facebook, Instagram, and TikTok. There is no public access to WhatsApp, Signal and Telegram, so everyone can see what's going on. It's like a conversation between friends, it will be much easier to spread false information between groups. "