Grading the Georgia Senate candidate's try and win over younger voters.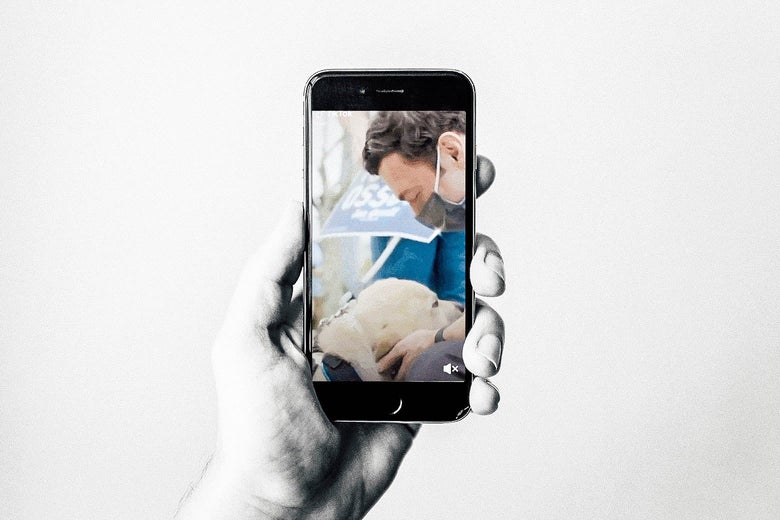 Photo illustration of Slate. Pictures from @ jon / TikTok and NeONBRAND on Unsplash.
Most of the 30-year-olds I know who joined TikTok this year did so for a reason: Since the short-form video app's cultural impact has grown tremendously during the coronavirus crisis, they wanted Gen Zers and understand their obsession with it. Discussion Points: Why All That Dancing? What's wrong with Kellyanne Conway's daughter? Why the constant frying of their millennial elders?
33-year-old Jon Ossoff also came to Tiktok this year for a reason. But there was no finding out who Charli D'Amelio is. It was supposed to run for the Senate.
The SolarWinds hack is unlike anything we've ever seen before

How did the most hyped video game turn out to be a buggy disaster in years?

The real reasons all top chess players are men

I reluctantly admit that Tom Cruise is right
Ossoff, the Democratic candidate in one of Georgia's two upcoming runoff elections, announced his arrival on TikTok – as well as Snapchat – earlier this month in an effort to reach out to young voters. It was a relatively modest commitment: so far, Ossoff has posted almost 20 videos and had more than 160,000 followers and 2.6 million likes. The history of the campaigns on TikTok is short, however, so this may be enough to qualify this as the biggest bet a lead candidate has made on the app. Ossoff's mission is much tougher than that of his millennial colleagues who joined the app just to see what the kids are up to: he has to convince those kids to care about what he's up to without thinking, condescending, or to get boring you. It's your basic TikTok tightrope walk.
Now that Ossoff had a few weeks to fill his TikTok account with content, and since the January 5th runoff election was voted early, it seems like a good time to ask: How is he? Will this account do something for its campaign? I can't tell you, but please join me as I watch a selection of his videos and rate them in chronological order to see if he gets better at how TikTok-y they are over time.
One of Ossoff's earliest endeavors was nothing more or less than a TikTok of his petting a puppy. Shameless. Save that weak sauce for Instagram, dude. Note: C.
Ossoff's most popular video to date, which has been viewed 1.8 million times, contains compelling footage of the candidate calling out his opponent, Senator David Perdue, for being inaccessible to his constituents. Despite some TikTokian changes in the editing style and use of text, it feels like an ad that can work on any number of social networks and platforms. Grade: C +
The next one looks like it is a speech at first, but then Ossoff turns to the camera and speaks directly to his "TikTok family" – confusing; what's going on here? But the music that plays over this video is worth paying attention to: this song is the soundtrack to a TikTok trend that shares a series of photos of you that change over time. So the video establishes the connection between young people who are growing up and who they are entering their own politically. Adding music popular elsewhere on TikTok is a strategy Team Ossoff uses a lot, in a way that is elliptical at times, even to me, and it's pretty clever. Grade B
After Ossoff asked "Ossoff Nation" to publish TikToks to encourage the registration deadline for voters in Georgia, he kept his promise to "duet" a few of them, ie play them side by side, responding to ranked somewhere over a retweet about the best way for fans to be recognized on social media. His choices are good, which works out well for him and TikTok's Ossoff beehive. In his reaction to the infomercial-style first, Ossoff shows off his acting skills, which shows in an admirable glee to mimic the cheeseball tone, but I felt his character motivations got a little mixed up in the other – is is he still an infomercial reaction guy here, or is he another guy? Grade: B +
Here we come to an unreserved attempt to participate in a TikTok meme. The best way to explain these "Rare Aesthetic" videos might be an example: This TikTok labeled "Rare Aesthetic: Redneck KarenCore" is flipping through photos of a Kate Gosselin hairstyle, platform flip-flops, and a square acrylic French Manicures, Marlboro cigarettes – basically the visual equipment of a "Karen". Ossoff's contribution is labeled "Extremely Rare Aesthetics: Two Runoff Elections in Georgia to Determine Control of the Senate". It contains images of Ossoff's campaigns with his Democratic candidate Raphael Warnock in masks as well as a screenshot of a message about their opponents, a screenshot of an inbox with emails from the Ossoff campaign, a partial voting card with Georgia blue on it, etc. A solid one Effort, but I'd like to see this situation in an example as visually specific as the square-tipped acrylic French manicure, and I don't understand that. Grade B
A racist song called "Combination Pizza Hut and Taco Bell," which contains exactly what its title suggests, has been moderately viral on TikTok lately, and this video adds "Ossoff runoff" and "Warnock runoff" to the song. There's something about the peculiar craziness of fast food combo that fits in perfectly with the complicated improbability of double choice, which makes this video simple but incredibly satisfying. Grade: A-
Buckle up because the explanation will take a second. Here we see some footage of Ossoff sitting backstage while President-elect Biden speaks at an outdoor event. Playing about it is the voice of a woman who explains critically: "He knows Barack. I love barack. I swipe right. "The audio is a TikTok sound that came from a pretty simple video that showed a woman encountering a photo of a man posing with President Obama in a dating app, but it has caught on like these things on TikTok, as titles to play with over other dating app discoveries, including ones Obama is not at all involved in. The implication of this – in fact, Ossoff doesn't know Barack; he knows Biden and Biden knows Barack – makes it just for them App better suited. TikTokiness is off the charts. I think he might get the hang of it. Note: A.
Readers like you make our work possible. Help us keep delivering reports, comments, and criticism you won't find anywhere else.
Join Slate Plus Join Slate Plus n ".concat (n.innerHTML," n n "), laden.delete (e), n.classList.remove (" Lazyload-Container – laden "), t.fluid && (n.style.paddingBottom = "". concat (r, "px"), n.classList.remove ("Lazyload container – liquid"))} else console.error ("Container for unloading el cannot be found ", e)}} module.exports.createObserver = function (e) {e = _objectSpread ({intersectionObserverOptions: {rootMargin:" 100% 0% 100% 0% "}, limit: 1/0, fluid:! 1, onLoad: function () {}, onUnload: function () {}}, e); var t = new Map; return new IntersectionObserver (function (n) {n.forEach (function (n) {var r; t.has (n .target)? r = t.get (n.target) 🙁 r = {el: n.target}, t.set (n.target, r)), r.isIntersecting = n.isIntersecting, r. offsetTop = n.boundingClientRect.top + window.scrollY,! r.loaded && r.isIntersecting && (load (n.target, e), r.loaded =! 0, e.onLoad (n.target, e))} ); var r =[]; t.forEach (function (s) {e.loaded && r.push (e)}); var o = r.length-e.limit; o> 0 && r.filter (function (s) {return! e.isIntersecting}) .map (function (s) {return e.distance = Math.abs (e.offsetTop-window.scrollY), e}). sort (function (e, t) {return t.distance-e.distance}). Slice (0, o) .forEach (function
}, {}];; window.modules["41″] = [function(require,module,exports){var isObject=require(597),now=require(725),toNumber=require(724),FUNC_ERROR_TEXT="Expected a function",nativeMax=Math.max,nativeMin=Math.min;function debounce(n,i,t){var e,r,o,u,a,c,v=0,f=!1,m=!1,d=!0;if("function"!=typeof n)throw new TypeError(FUNC_ERROR_TEXT);function T(i){var t=e,o=r;return e=r=void 0,v=i,u=n.apply(o,t)}function s(n){var t=n-c;return void 0===c||t>=i||t=o}function b(){var n=now();if(s(n))return l(n);a=setTimeout(b,function(n){var t=i-(n-c);return m?nativeMin(t,o-(n-v)):t}(n))}function l(n){return a=void 0,d&&e?T(n):(e=r=void 0,u)}function w(){var n=now(),t=s(n);if(e=arguments,r=this,c=n,t){if(void 0===a)return function(n){return v=n,a=setTimeout(b,i),f?T(n):u}(c);if(m)return clearTimeout(a),a=setTimeout(b,i),T(c)}return void 0===a&&(a=setTimeout(b,i)),u}return i=toNumber(i)||0,isObject
}, {"597″:597,"724″:724,"725":725}];; window.modules["42"] = [function(require,module,exports){"use strict";function ownKeys(r,e){var t=Object.keys(r);if(Object.getOwnPropertySymbols){var o=Object.getOwnPropertySymbols(r);e&&(o=o.filter(function(e){return Object.getOwnPropertyDescriptor(r,e).enumerable})),t.push.apply(t,o)}return t}function _objectSpread(r){for(var e=1;e=r.length?{done:!0}:{done:!1,value:r[o++]}}, e: function (r) {throw r}, f: n}} throw new TypeError ("Invalid attempt to iterate on a non-iterable instance. nTo be iterable, non-array objects must have one [Symbol.iterator]() Method. ")} var a, i =! 0, c =! 1; return {s: function () {t = r[Symbol.iterator]()}, n: function () {var r = t.next (); return i = r.done, r}, e: function (r) {c =! 0, a = r}, f: function () {try {i || null == t.return || t.return ()} finally {if (c) throw a}}}} function _unsupportedIterableToArray (r, e) {if (r) {if ("string" == typeof r) return _arrayLikeToArray (r, e); var t = Object.prototype.toString.call (r) .slice (8, -1); return "Object" === t && r.constructor && (t = r .constructor.name), "Map" === t || "Set" === t? Array.from (r): "Arguments" === t || / ^ (?: Ui | I) nt (?: 8 | 16 | 32) (?: Clamped)? Array $ /. Test