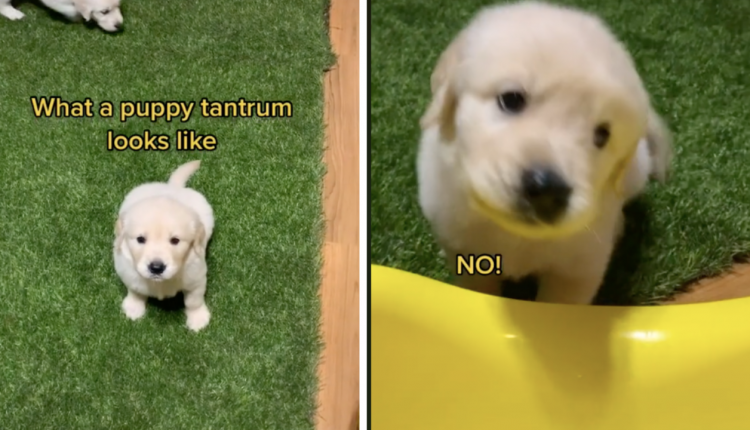 Golden retreiver pet's cute tantrums in a TikTok is melting hearts
An adorable Golden Retriever puppy melts the hearts of TikTok users with his adorable tantrums in a video.
TikTok is a great place to watch the adorable antics of doggos, kittens, and other pets.
Watching animal videos on the platform at the end of a stressful day has become the way to relieve stress for many. Therefore, we present you a brand new TikTok that will banish all your fears.
The video shows an adorable golden retriever throwing some cute tantrums at the person recording it.
SEE: Is Scream 5 on HBO Max, Netflix, or Paramount Plus?
Photo by Ben Gabbe/Getty Images
Golden retriever puppy throws cute tantrums in TikTok video
The viral video, posted on Jan. 3 on TikTok page caligoldenretrievers, has already garnered over 2 million views.
The text on the footage reads "What a Puppy Tantrum Looks Like" as we see two cute Golden Retriever puppies on an artificial grass field.
As the other pup licks in the background, the star of the TikTok starts barking adorably at the person recording the video.
The text in the video tries to translate what the puppy is trying to say.
"I said… I want the milk truck [its mother]… now!"
The cute little puppy keeps barking at the camera. '"You're not listening to me! Now go get Mom! No!" adds the text.
The viral video has already garnered over 500,000 likes and over 1,600 comments from TikTok users, touched by the golden retriever puppy's tantrums.
SEE: What is the viral 5 and 500 workout challenge?
Users are reacting to the adorable video
Many TikTok users couldn't help but swoon over the adorable doggos.
One user hilariously wrote, "Such fury in a small fluffy package."
A second user wrote: "How can something so small and cute have so much attitude?"
Other adorable videos from 'caligoldenretrievers'
The Caligoldenretrievers TikTok handle is filled with beautiful videos of several Golden Retriever puppies.
The videos capture the puppies' daily activities and all the tantrums they throw.
A TikTok posted on Jan. 11 sees slightly grown puppies being introduced to newborns. The video has over 800,000 views.
Another new upload features an adorable Golden Retriever puppy discovering he has a tail.
La Mif | UK trailer
BridTV
7801
La Mif | UK trailer
https://i.ytimg.com/vi/N1s453wN4ws/hqdefault.jpg
940242
940242
center
13872
In other news: How many children do Jason Momoa and Lisa Bonet have together?